According to the FBI's Unified Crime Reports, a burglary takes place every 18 seconds in the United States. That's an astonishing 4,800 burglaries that occur on a daily basis. We have listed six steps you can take to start securing your home today. Don't worry, not all of them involve purchasing products. There are some simple steps to follow that really minimize your risk of being burglarized.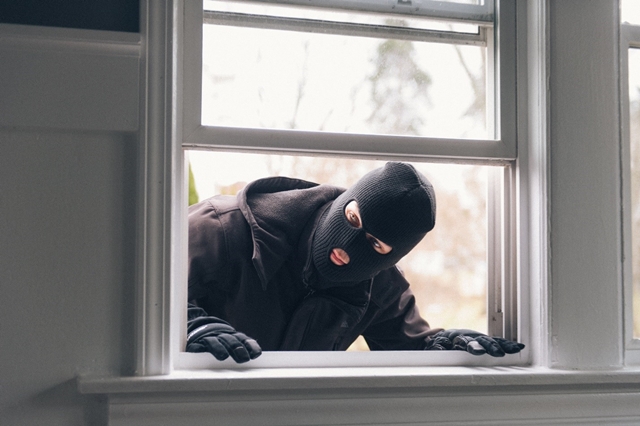 Install a Home Security System – You have a lot of options when installing a home security system from a very simple audible alarm to one that is integrated with a 24/7 monitoring service and has home automation capabilities. There are some home security systems like SimpliSafe or Protect America that come with monitoring services. Alternatively, you can go with a company like ADT and have a system professionally installed.
Install a Smart Doorbell – Video doorbells are now becoming more popular and can notify you when someone approaches the front door with their motion sensor technology. Check out these video doorbell reviews to compare the latest products.
Maintain Your Landscaping – Maintaining the landscaping around your home give burglars fewer places to hide in daylight. Did you know that a majority of burglaries take place between 10 am and 3 pm? If a burglar is casing your neighborhood, the homes that are unmaintained provide the best coverage to remain unseen while breaking into the front door or window.
Lock Your Doors – 30% of burglars enter through an unlocked door or window. This seems very obvious, and it is. This simple step can prevent a break in. Make sure that you lock your car doors too as most garage door openers are your car. This provides an easy way to enter the home without forcefully breaking in.
Use Deadbolts on Main Entrances – The three main entrances on most homes are the front and back door and the door leading to the garage. All of these doors should have a deadbolt in place. A double cylinder deadbolt is your best and most secure option. A door jammer can be added as an additional layer of security.
Don't Post on Social Media When on Vacation – I know it's hard to do, but save all of your social media vacation posts after you are finished on vacation. A recent study revealed that 80% of ex-criminals were using social media site to target homes for burglaries.
Install Outdoor Lighting – At a minimum turn your porch light on at night. Ideally, you want as much light as possible, within reason, of course, illuminating your home. Install a motion sensor light above your garage door and back porch. This is a big burglar deterrent.
Close Your Garage Doors -Keep your garage doors closed both in the day and at night. When you leave them open during the day, a burglar can case your house by looking in your garage and seeing tools, kids toys, bikes and whatever else is stored in the garage.
Close Your Curtains – Having a clear view of what is on the inside of your house is all that is needed to make your home a target. You can't see inside if the curtains are closed. We recommend installing curtains or blinds if you don't have any and remember to keep them closed when you are not home. This also goes hand in hand with maintaining your landscape. If left unkempt it's much easier for someone to hide behind overgrown shrubs and see what's inside your home.
Taking a few simple steps goes a long way to securing your home and giving you the peace of mind. There is no sure-fire way to prevent burglaries, but the more you do to deter burglaries the more you minimize your risks.
Resources
FBI Unified Crime Reports – https://ucr.fbi.gov/