You probably know all too well that items can become damaged or broken around the home on a regular basis. Flex Seal is sold in an aerosol canister, which can expel liquid rubber. This rubber is weather resistant and waterproof, and great for protecting items from erosion and filling in leaks.
The rubber does not crack or peel during the severe winter months. Also, it is extremely versatile, because it starts as a viscous fluid that you can dip, roll, pour or brush onto surfaces. Then, as if by magic, it transforms into a flexible, durable rubber. However, don't take our word for it, read other flex seal reviews and judge for yourself.
User Instructions for Flex Seal
Before trying to use the aerosol canister, it is important to shake it thoroughly then direct the spray into small cracks and holes, or fill leaks in, while keeping the canister fourteen inches away from your eyes. Make sure that you apply the layers of rubber thinly, to enable it to dry completely in between sprays for optimum results. Store the canister at temperatures over sixty degrees Fahrenheit. After you have used the canister, turn it over to clear the nozzle for the next time you use it.
Some canisters are sold containing a gallon of liquid. The usage and storage instructions for these products are similar to those outlined above. This includes applying thin layers for best results, storing the product at temperatures over sixty degrees Fahrenheit, and not using it on surfaces hotter than 350 degrees Fahrenheit.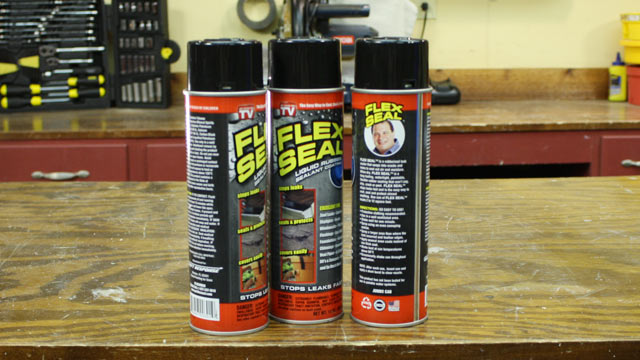 The Applications of Flex Seal
It would be impractical to attempt to list all the possible uses of Flex Seal, because it can repair virtually anything. The following list scratches the surface though. This sealant can be used on:
-Bird baths and ponds (this product excels at fixing concrete cracks)
-Gutters and roofs (save yourself a huge amount of money, by using Flex Seal to repair your gutters and roof. It is highly effective for this purpose)
-Sporting equipment and tools
-Foundations and basements (once you have applied Flex Seal, you can paint over it to your heart's content and it will seem like the crack never existed)
-Trailers, RVs and camper vans
-Vans, cars and lorries
-Boats
Drying Times for Flex Seal
The amount of time that this product takes to dry varies, based on the humidity, temperature and coating thickness. Typically, the rubber liquid spray will become dry to touch within three hours, and totally dry within twenty-four hours. Also, it will become more sturdy as time passes.
The Price of Flex Seal
This product is priced differently, depending on the quantity you order and the type of canister you purchase (one gallon, thirty-two ounce or sixteen ounce). Nonetheless, prices start at $19.99, with a small additional charge for handling and shipping. Given the amount of money it would otherwise cost you to replace the things you need to repair, this price represents good value. It is far better to repair your roof for only twenty dollars, rather than spending hundreds or possibly thousands of dollars.
-Prices for gallon canisters start at $89.99
-Prices for jumbo canisters (thirty-two ounce) start at $29.99
-Prices for large canisters (sixteen ounce) start at $19.99
Furthermore, as part of your purchase, you will be given a Handy Flex Seal and Handy Flex Shot as a reward for your custom.
Final Thoughts – Does Flex Seal Really Work?
Flex Seal is an excellent, user friendly sealant. If you have leaks in your home or in your gutters, it is important to fix these as a matter of urgency. This product lasts for long time periods and can be stored easily. This makes it a handy tool that you can rely on, whenever repair problems arise.