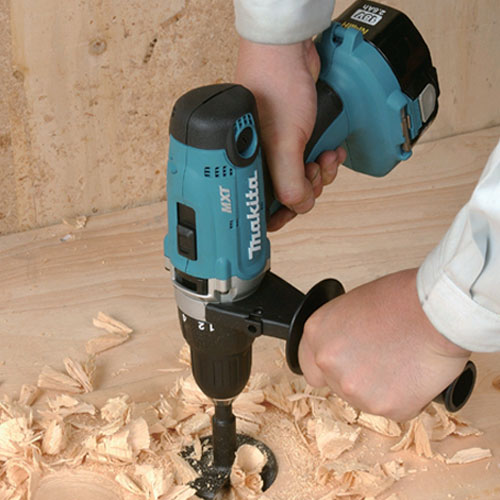 There are many individuals who would like to know the difference between a sleek, cordless drill and its noisy corded counterpart. The obvious distance is mobility. By popping the battery into a cordless drill, you will be free to roam to your heart's desire or until there is no more juice in your battery. Your corded drill depends on electricity and its mobility is usually based on what the length of an extension cord will allow.
This article will explore the differences between cordless and corded drills to include RPM's, max power output and the advantages and disadvantages of each. Therefore, if you are trying to decide which one to buy, this should answer some of your burning questions.
Power
Generally speaking, corded drills deliver more power than their cordless counterparts; they function from a continuous 110-volt supply of electricity. Cordless drills are dependent on 12, 18 and perhaps 20 volts of battery power at the most.
Lifespan
A number of individuals believe that the worst fate of a battery is being left unused to sit for prolonged periods of time. If you are seeking a drill but will not be using it a lot, a corded drill would be the wiser choice. Even when used frequently, batteries do not last forever. A good few years can be expected out of the batteries; however, you cannot expect the decades that you will get from corded drills.
Mobility and Convenience
Not being hindered or limited by a power cord is clearly the major advantage the cordless drill has over the corded one. However, you are then restricted by the length of the charge the battery allows. It is a matter of give and take.
Multiple Battery Uses
Another major advantage of cordless drills is that the same battery can be used for other tools like your circular saw, drill and impact driver. However, if you are a beginner and would like to set up a garage and get a few essentials, the more economic option would be the corded drill.
The majority of manufacturers offer remarkable combination kits that typically include a charger, a couple batteries and some of the most essential power tools that you will need for a variety of products.
The best decision will be based on factors like your specific needs and the applications required to complete your project. The most ideal scenario would be to have both versions of the drill, if your budget allows. It is great to be able to grab the reliable corded drill, when required and there is definitely no replacing the handiness of the best cordless drill.
The list below highlights top models of both cordless and corded drills:
Corded Drills
Ryobi D48CK 5.5-amp Drill
This falls in a category with the best inexpensive drills available. It has a 5.5-amp motor with variable speed. This makes it suitable for all the standard projects it will be used for around the house.
DeWalt DWD112 8.0-amp with Keyless Chuck
This workhorse of a cordless drill with its 2500 max RPM and 8-amp motor is an excellent all-arounder. It will supply a lot of power for projects most do-it-yourselfers like to do around the house. Additionally, its variable speed trigger makes it possible to conveniently work with different size drill bits and a variety of materials.
Cordless Drills
Milwaukee 2606-22CT M18 ½-inch Cordless Drill/driver
This drill goes toe-to-toe with the DeWalt. Milwaukee's M18 REDLITHIUM batteries are seen by many as being among the best in the industry. Of course, it is only rivaled by the DeWalt's 20-volt MAX.
DeWalt DCD771C2 20-volt MAX ½-inch Cordless Drill/driver
Quite a number of experts are of the opinion that it is difficult to beat the series of 20-volt MAX cordless tools produced by DeWalt's. It delivers remarkable charge times, plenty of power and long battery life. This combination drill/driver boasts a 2-speed motor with a maximum power production of 300 MWO – and many owners report this to be the best cordless drill for the money.
Bottom Line
Generally, corded drills are leaner, lighter and more powerful than their cordless counterparts. However, they are less convenient, noisier and restrict mobility. The convenience of the best cordless drill cannot be undermined but they are heavy, bulky, have a limited lifespan and clear power restrictions.